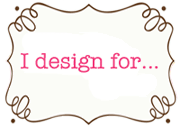 Hello all of you wonderful crafters out there in blogland! I have some exciting news to share. I've been invited to participate in the Frosted Designs Blog Design Team! Wahoo, what an honor! I'm so excited to get started in March designing as part of their Fabulous Friday Design Team.
Check out the announcement
here.
There is an entire crew of VERY talented crafters that make up the design teams over at Frosted Designs, so please feel free to hop on over and participate:)
They have 3 challenges going all the time, so there is something for everyone. They have a card sketch challenge, a layout sketch challenge
Fabulous Friday challenge
...can you guess which one I'm on? I am on the Fabulous Friday Design Team and I cannot wait to get started!
I hope you visit and play along. It's a great blog that gets alot of traffic and has great giveaways!